3 Foot Box Loop Antenna
These antennas are larger versions of the small loop antennas that were part of the cardboard back panel of older AC/DC five tube AM radios. Loop antennas of this type were popular in the very early days of radio. They are still useful today for long distance reception of AM radio stations found in the range of frequencies between 550 and 1700 Khz. Some AM DX listeners consider the loop superior to outside antennas because of its ability to null out unwanted stations. A well designed loop will allow azimuth and elevation adjustment to take full advantage of the nulling feature.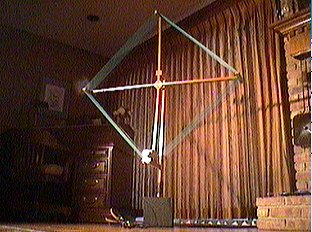 EXAMPLES OF LOOP ANTENNAS
This three foot loop actually measures 33 inches on a side and stands about six feet tall from base to the top of the vertical spreader. Due to the elevation adjustment method used the loop is mounted in a diamond configuration which makes it stand a little taller than the box configuration. Still, six feet should be easily acommodated in most rooms.
The wire loop consists of 13 turns of stranded, insulated hook-up wire. A 365mmfd variable capacitor is used to tune the loop. An optional range switch can be used to select additional fixed value capacitors across the variable to ensure full coverage of the lower end of the AM band.
A one turn pickup loop is centered on the 13 turn loop and is held just inside the main loop. A 400pf capacitor is wired in series with one side of the pickup loop to permit a better match to coaxial cable. Six feet of coaxial cable connect the pickup loop to the radio. The cable used here is RG62. It was chosen for its low internal capacitance rather than its 92 ohm impedance.
The spreader arms and wire combs are made from 1 X 5/8 inch clear, knot-free cedar. Redwood or pine would work as well but cedar is aromatic and lighter in weight. Some builders use PVC pipe which also works, but I find PVC pipe is significantly heavier than wood and tends to flex more. Reinforcing PVC with wood to prevent flexing makes the PVC completely unecessary. Just use the wood and don't worry about PVC.
The vertical base support is made from a 6 inch length of 1-7/16 inch diameter dowel and a 3 foot length of fir 1 X 2. Use either fir or pine. Weight is not a factor here. What we need is something strong with little chance of bending. Note that the 1 X 2 actually measures 5/8 X 1-3/8. This allows for a better fit into the slot that is cut into the 6 inch length of dowel. A metal collar made from 1-7/16 I.D. galvanized pipe is slipped over the connection between dowel and 1 x 2 to keep the joint from seperating. Only glue is used to hold the parts together. The collar also acts as a stop for the bottom support
The bottom support is made from a single cell cinder block and a 9 inch length of 1-7/16 I.D. pipe. The pipe is centered in the cinder block, aligned so that it is perfectly vertical, and the hole in the block is filled with mortar. Once the mortar sets we have a nice weighted base capable of holding the loop antenna. The dowel slip fits into the pipe allowing the loop to be rotated 360 degrees. The dowel is treated with lindseed oil to allow smoother rotation. A carpet sample is glued to the bottom of the cinder block to protect the floor. The pipe and block look better if painted.
A couple of coats of clear polyurethane give the loop a finished look but this is only necessary if the antenna is going to be used outside.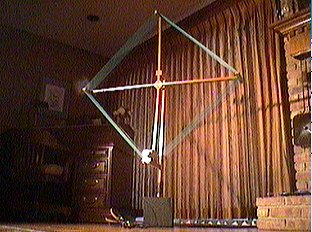 FINISHED LOOP READY FOR USE
The indoor performance of this loop is just short of sensational. Radio stations that are not heard otherwise come up to full volume when using the loop. This is particularly dramatic when using a small battery powered radio. The battery powered radio is simply placed inside the loop, close to the wires. The loop is tuned and the stations are received. Remove the radio from the loop and the stations dissappear. I have not tried using the loop outdoors but would expect even better results.
I have tried using the loop with a simple crystal radio and found it picks up three local DWF stations with comfortable headphone volume. While not spectacular, this degree of performance is more than adaquate considering a full wavelength 40 meter loop outside only picks up five local DFW radio stations with the same crystal radio.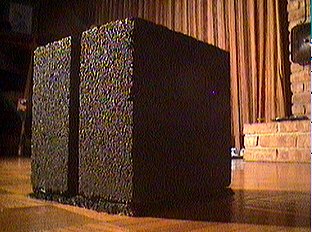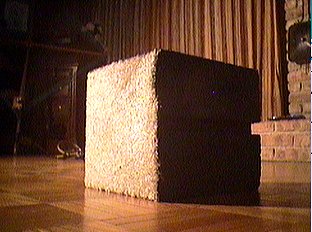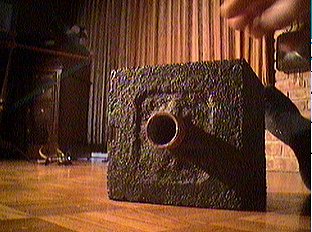 THE CINDER BLOCK BASE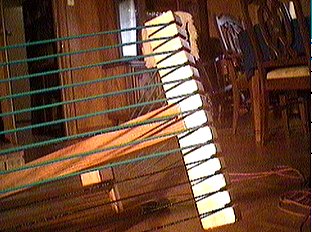 THE WIRE COMBS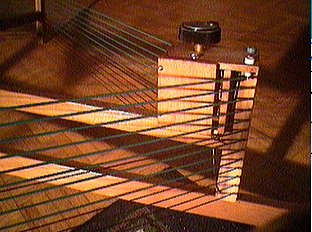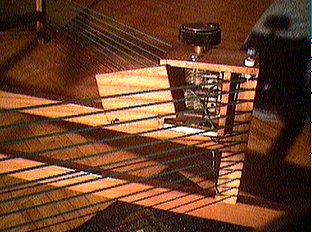 TUNING CAPACITOR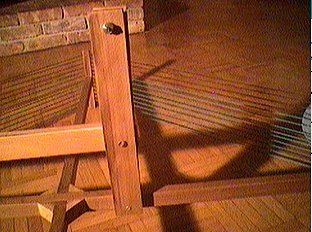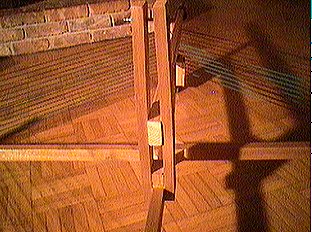 TILT MECHANISM DETAIL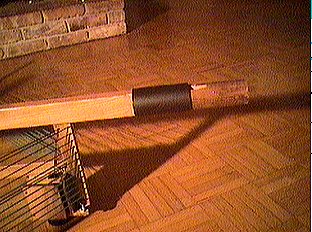 SUPPORT SHAFT DETAIL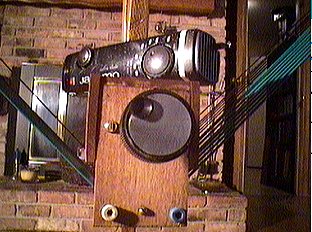 TESTING WITH A BATTERY OPERATED RADIO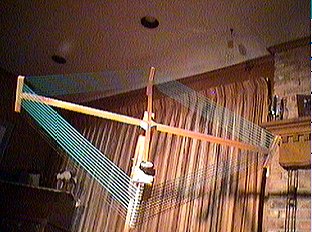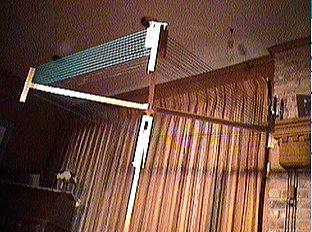 IN MAXIMUM ELEVATION ADJUSTMENT
I AM OFFERING A BASIC KIT TO BUILD A 3 FOOT LOOP LIKE THE ONE DESCRIBED HERE.
BASIC 3 FOOT LOOP KIT

Included are:
4 - PRE-CUT WIRE COMBS
2 - PRE-CUT SPREADERS
1 - SECTION OF PIPE FOR THE CINDER BLOCK BASE
1 - PRE-CUT 6 INCH WOOD DOWEL FOR THE MAIN VERTICAL SUPPORT
1 - 3 FOOT 1 x 2 VERTICAL SUPPORT
2 - ELEVATION MOUNT SIDES
1 - 200 FOOT ROLL OF STRANDED, INSULATED HOOKUP WIRE #20 OR LARGER
1 - 365 MMFD VARIABLE CAPACITOR
1 - 400 MMFD MICA COUPLING CAPACITOR
1 - 6 FOOT LENGTH OF COAX WITH BNC CONNECTOR ON THE END
1 - TUNING CAPACITOR BASE
1 - TUNING CAPACITOR FRONT PLATE
1 - SET OF DETAILED ASSEMBLY INSTRUCTIOINS AND USE TIPS.
1 - SET OF BRASS HARDWARE INCLUDING ALL THE BOLTS AND SCREWS NEEDED FOR ASSEMBLY.
Not included are the glue and varnish if you intend to paint the assembly. Note that the varnish is necessary only if the loop will be used outdoors. You will also need to provide your own cinder block and mortar.
The wood provided in the kit is clear, knot-free, cedar. All wood parts are cut to size, slotted and drilled where required. A light sanding is all that may be required.
The pipe for the base may be either galvanized steel or PVC.
PRICE IS $125 plus shipping of $20.00 to addresses within the continental U.S.A.
The advantages of buying a kit are convenience and support.
All difficult to find parts are included in the kit. With the exception of tools, solder, cinder block, and mortar, there is no need to scrounge for parts. There is also no need for special equipment like power saws or drills. Simple hand tools are all that is required.
All kit purchases are guaranteed to result in a working loop.
Mail orders for kits to:
LOOP KIT
907 Dumont Dr.
Richardson, TX 75080