---
811 LINEAR AMPLIFIER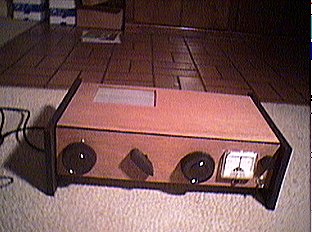 500 WATTS INPUT
ALL 9 HF BANDS
SELF CONTAINED DESKTOP UNIT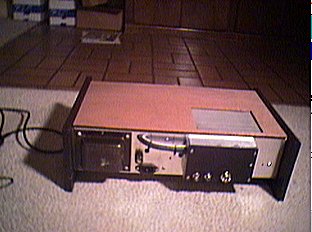 IEC 120 VAC INPUT CONNECTION
BNC RF INPUT
PHONO 12 VDC KEYING INPUT @ 200ma
SO-239 OUTPUT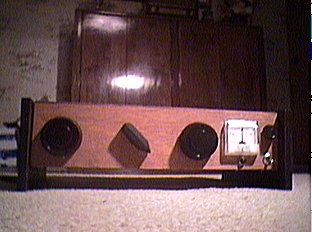 PLATE TUNE
BAND SWITCH
ANTENNA LOAD
RELATIVE RF OUTPUT METER
ON/OFF SWITCH
RF OUTPUT SENSITIVITY ADJUSTMENT
In the mid 1970's I built a Tiny Tim linear amplifier from an article by Russ Covington in the August 1971 issue of 73 magazine. At the time the only rig I had was a Hallicrafters SR-150 transceiver. I was interested in RTTY and I wanted a little more power.
The Tiny Tim was not a power house but I could drive it to a solid 300 watts output with the SR-150. For additional punch, I relied on an 8JK wire beam flat-topped at 50 feet. It worked well. Very well.
Ten years later I traded Tiny Tim and power supply for three 60 meg RLL hard drives. Stupid trade by present standards, but back then those drives were worth some major bucks. Still, I always regretted the trade and began collecting parts for a second Tiny Tim.
The original Tiny Tim was a marvel of simplicity with a low parts count. It used readily available surplus parts and reduced circuitry to the bare essentials. It did not cover the WARC bands. It was limited to 500 watts DC input. It was almost too light in weight, measuring only 12 X 10 X 3 inches. It looked hombrewed. It required a seperate power supply. The only protection circuitry was a fuse.
Tiny Tim Two is still limited to 500 watts DC input. You could use 572Bs to get above that power limitation but that would require a larger power supply and Tiny Tim might no longer be tiny. You can still use 572bs in place of the 811s with the smaller supply but it would not gain any additional power unless there was plenty of reserve in the plate transformer.
The schematic can be found here.
The parts list can be found here.
To get back to this project page just close the schematic window (click on X ). You can get a decent copy of the schematic by saving it as jpg and printing it.